Baking Soda and an Effective Way towards Whitening Your Teeth – It is possible to whiten teeth with baking soda. Drinking soft drinks and wine, smoking, and eating sour and sugary sweets are all responsible for tooth discolouration. Tooth discolouration doesn't just make your smile look bad; It is unsuitable for oral health.
A great solution lies in your kitchen to improve the aesthetics of your teeth and that is Sodium bicarbonate .Sodium bicarbonate  is none other than baking soda, an effective way to whiten your teeth is a salty, alkaline powder with abrasive properties. These properties effectively remove plaque on your teeth, giving you a healthy, bright smile.
The best approach to give your teeth the dazzling treatment they deserve is to go to the dentist and perform a professional whitening procedure. But not everyone wants to pay for in-office treatment. The usage of baking soda is at the top of the list of inexpensive whitening remedies.
Here are Four Ways to Use Baking Soda to Whiten Your Teeth.
1. Baking Soda an Effective Way to Whiten Your Teeth and Toothpaste
This is by far the simplest method. Sprinkle baking soda on your toothpaste, then brush your teeth as usual.
2. Baking Soda and Water
The most frequent method for whitening teeth is to use a solution of baking soda and water. In a cup or small bowl, combine a few drops of water and half a teaspoon of sodium bicarbonate to produce a paste and then apply the paste to your teeth with your finger or toothbrush and leave it for 2-3 minutes. Rinse well with water.
3. Lemon and Baking Soda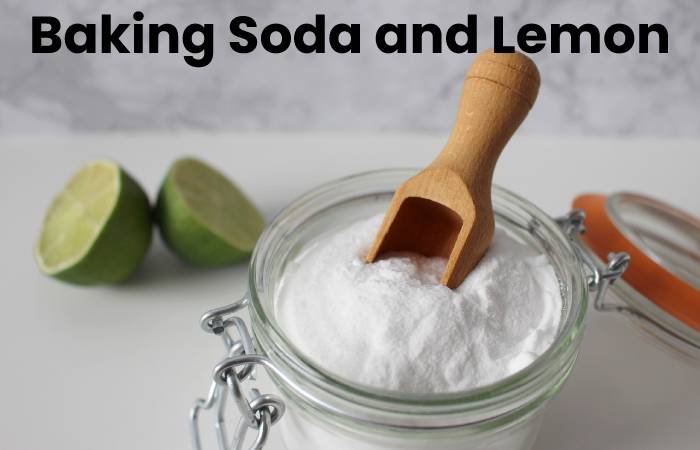 Citric acid, a naturally occurring bleaching agent, is present in lemons. Make a paste to whiten your teeth by combining half a teaspoon of baking soda with half a teaspoon of lemon juice. It works wonders to brush your teeth with this lemon-soda concoction.
4. Baking Soda and Hydrogen Peroxide
To brighten your smile, brush your teeth with hydrogen peroxide, besides baking soda paste. Take a half teaspoon of baking soda, or slightly more, and then combine it with a half teaspoon of hydrogen peroxide to create a sticky and semi-liquid solution. After brushing your teeth with this paste-like concoction, let it be seated for a minute or two. Use water or mouthwash to rinse your mouth now.
 How Long Does it Take for Baking Soda to Whiten Teeth?
Although you may notice some whiteness after a few days, the actual results of this at-home teeth whitening treatment will become apparent after a few weeks. But remember that by brushing your teeth with sodium bicarbonate solution for more than two minutes, you may end up eroding your teeth. After use, thorougly  rinse your mouth and toothbrush with water.
The advantages and disadvantages of baking soda as part of your dental hygiene routine are registered.
Advantages
1. Reduces Gingivitis and Plaque
Colonies of bacteria called biofilms stick to the surface of your teeth and eventually lead to issues like gingivitis and cavities—one type of dental biofilms plaque. Baking soda granules destroy that biofilm when you brush, lowering the bacterial load and assisting in preventing harm to your teeth and gums.
2.Baking Soda is an Effective Way to Whiten Your Teeth –  Could Lessen Bacteria
Some dangerous bacteria require higher acidic conditions in your mouth to flourish. The pH in your mouth rises when you rinse with a baking soda and water combination, according to a reliable source
3. Baking Soda is an Effective Way to Whiten Your Teeth – Teeth Whitening
Baking soda has natural whitening capabilities and it has been proven excellent at removing stains and brightening your smile. As a result, it's a common constituent in many commercial kinds of toothpaste.
Disadvantages
1. Horrible Flavour and Texture
The fact that baking soda doesn't taste particularly delicious is the major drawback to brushing. With traditional baking soda or a baking soda paste for many users. The texture of baking soda may also give you the unpleasant impression of having sand in your mouth, which is unpleasant for everyone.
Try one of the many commercial kinds of toothpaste that list baking soda as an ingredient if you want the advantages of baking soda with a more excellent texture. You might add one or two droplets of peppermint oil towards the baking soda paste to improve the flavour if you don't mind the texture of natural baking soda but don't like the salty taste.
2. A Less Pronounced Lightening
Baking soda is a mild abrasive. While the American Dental Association (ADA) deliberates baking soda harmless for enamel and dentin, some researchers have assumed it has a low rating as a tooth whitener because it may not remove stains as effectively as other products. If baking soda does not work well for you as a teeth whitener, you can also consider products that contain hydrogen peroxide or abrasive pellets.
Conclusion
Baking Soda and an Effective Way Towards Whitening Your Teeth – An affordable and easily accessible tooth cleaner is baking soda. It not only helps to remove dental plaque but also  brighten some tooth stains as a mild abrasive. However, because it lacks fluoride, it is less efficient than regular fluoride toothpaste at preventing cavities.
Although some dislike baking soda's salty flavour and sandy texture, its accessibility, pH balance, and mild abrasive qualities make it an excellent alternative for those who prefer fluoride-free toothpaste or use it in conjunction with one that does…