Introduction
Skin Dew Coconut Water creamer reformulates, and it's better than ever! Enjoy more plant-fed hydration and an updated preservative system for better shelf life.
A higher concentration of nourishing cupuacu butter enhances the cream's dreamy whipped texture, while antioxidant-rich coconut water hydrates skin.
Why Will You Love Skin Dew Coconut Water?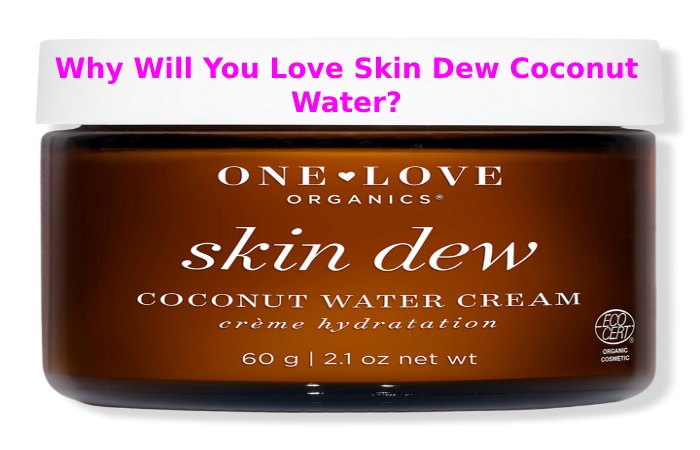 A cream with coconut water that balances skin and provides a healthy-looking glow, Skin Dew Coconut Water Cream is fresh from the formula update and better than ever. Yet delicious and light, this customer favorite now features an improved preservative system to increase shelf life, plus even more ultra-nutritious cupuacu butter to enhance its coveted whipped texture.
Other vital ingredients include Aquaxyl super emollient sugar-based proceramide skin cream, which acts as a hyaluronic acid booster and promotes softer smoother skin. In addition, Antileukine  6, a marine herb rich in essential fatty acids, omega-3s, and antioxidants, naturally supports skin elasticity, firmness, and hydration.
For Whom
It is beneficial for all skin types but especially for dull, dehydrated, and combination skin
Cruelty-Free and Dermatologist Tested – Skin Dew Coconut Water
At One Love Organics, our standards are everything, and we pride ourselves on delivering beautiful, healthy skin without compromise. We are certified for cruelty through PETA's Beauty Without Bunnies program, and we never test our ingredients, formulas, or finished products on our animal friends. Instead, every One Love Organics product is dermatologist tested for skin tolerance on paid human volunteers. All our products to date have received a zero gold standard irritation score, meaning they can use safely on even the most sensitive skin types.
Ingredients – Skin Dew Coconut Water
aloe barbadensis (aloe vera) leaf juice, water/water, caprylic/capric triglyceride, Helianthus Annuus (sunflower) seed oil, theobroma grandiflorum (cupuacu) seed oil, Cetearyl alcohol, Jojoba esters, Helianthus Annuus (Sunflower) ) Seed Wax, Xylyl Glucoside, Cetearyl Glucoside, Citrullus Vulgaris (Watermelon) Seed Oil, Cocos Nucifera (Coconut) Fruit Juice, Cocos Nucifera (Coconut) Pulp ExtractLaminaria Ochroleurens (Watermelon) Seed Oil, Acacia Decurolum Polyglycerin-3, Anhydroxylitol, Sodium Phytate, Silicon Dioxide, Maltodextrin, Benzyl Alcohol, Salicylic Acid, Sorbic Acid, Potassium Sorbate
Skin, Dew Coconut Water Cream helps combat dehydration and promotes balanced, moisture-rich, healthy-looking skin. This powerful plant-based formula remained made with the following:
Coconut Water: A liquid miracle worker packed with minerals to nourish and hydrate.
Cupuacu Oil: A polyphenol-rich moisturizer from Amazon to soften skin.
Phytic Acid: A naturally derived ingredient from rice to help soften the appearance of fine lines and reduce dryness.
It benefits all skin types and is especially good for dull, dehydrated skin. Intensely hydrating yet surprisingly light, this cream gets absorbed by the skin within a minute and blends well with other products.
Palmer's Skin Dew Coconut Water Facial Moisturizer Review
Packaging: It comes in a screw-on glass jar, which is better than plastic containers. The bottle itself comes in a cardboard box with all the details. Bottle is transparent, which is nice because you can see how much of the product is left, and it is easy to travel. The bottle has all the information except the price and expiration date, so if you lose the outer packaging, you lose the info, lol!
Fragrance: God, where to begin. I'm in love with the scent. It smells like coconut candy, barfi, or any food made from fresh coconut. What a beautiful and exciting bouquet you have.
My Experience
The first thing about this palmer's coconut water moisturizer is the packaging. So there is no problem with any packaging, but the suitcase packaging is effortless. Especially winter. Ha ha!
It is also a product from Çıldım new season product. The richer the formulation, the better the day will be for me.
I start by taking a small amount and massaging it all over my face. The first thing I saw was the instant shine and shine. It added a healthy glow to my face that looked dewy and beautiful and lasted for hours.
In terms of texture, it feels like a light and fluffy cream with a smooth surface. If I look closely, it feels like I have soft, nutmeg pearls that melt when massaged into the skin. It is so lightweight that I was skeptical whether it would even hydrate my dry skin, but surprisingly it is very effective at hydrating dry skin.
Conclusion
Skin Dew Coconut Water Palmer's Coconut Water Facial Moisturizer is the best moisturizer for dry skin. It is cruelty-free, has natural ingredients, and improves skin texture by effectively healing dry skin. It adds a beautiful, instant dewy glow, has a pleasant coconut scent, and is light on the skin. Regular use results in healthy-looking, radiant and nourished skin.