Easy Makeup Looks – Achievements And Objectives
Easy makeup looks consist of hiding imperfections in the most natural way possible and achieving an even skin tone without exaggeration. These tips are the basis for a truly natural look.
Here are some simple steps to help you discover your natural daytime easy makeup to make you shine in all your splendor.
The clean makeup look is one of the favorite 2022 trends of many. For this reason, we talked to professional makeup artist Paula Contreras about it. She tells us how we can achieve this makeup in simple steps.
"I think it's a way to feel comfortable wearing makeup without it being too much. Therefore it is essential that all people feel that way in their skin, and this is an ideal option for those who like to wear makeup but not so much", Paula said.
Objectives of Makeup to Create a Look
The objective of this makeup is to create a look with a natural and neat appearance and highlight the features without covering or "correcting" excessively.
"In my opinion, makeup is many things. It is an accessory, a complement, a form of expression of self-knowledge, liberation, and empowerment. It can be simple or bold. Makeup is art, it's free, and it's for everyone who chooses to wear it. It's all that, and it's what makes it fun."
1.      Skin Preparation For Easy Makeup Look
Before any makeup, preparing the skin is essential, especially to achieve this type of look. Start with clean, well-moisturized skin first, followed by sunscreen if you choose to do daytime makeup and Sunscreen is your best friend. ALWAYS use it.
2.      Base For Easy Makeup Look
If you want to even out your skin tone, there are different options: sunscreen, tinted moisturizers, light coverage foundations, or concealer for specific areas. Some prefer to avoid this step and choose not to apply foundation directly. It is vital to know what your skin aims for.
3.      Touch of color to make it easy to look
The goal of this look is for the skin to look fresh and healthy. Many times, as if you had been under the sun, without the need to expose yourself to it.
That is why the best option is blushes. The market offers us endless possibilities in terms of it. Some different shades and textures are ideal for different skin types.
Step by Step to Achieve – Natural, Luminous, Radiant, and Flawless look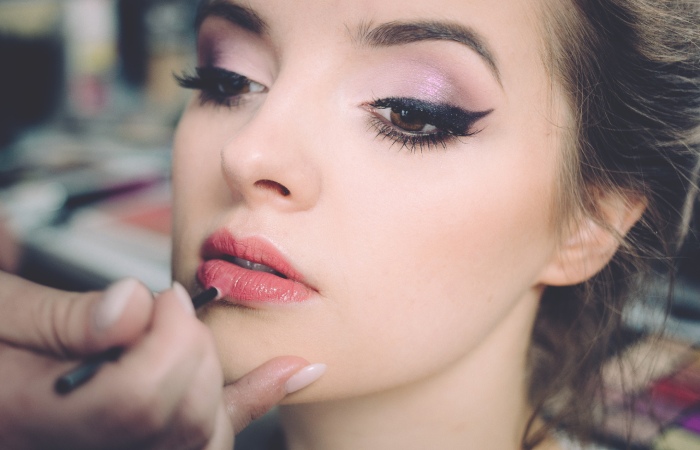 Please take note of the step-by-step (eight in total) to achieve natural, luminous, radiant, and flawless makeup without having to get up early for it. It is easier than you think, and you can even give more than one user to an essential product in every toiletry bag. Everyone will believe that that 'glow' on your face is pure naturalness. You have drawn up a list of 8 actual products that achieve all this in a short time: from the primer to a good makeup base. Ready?
1. Primer Easy Makeup look
The open secret of those who want to correct /illuminate/match without using a makeup base. Depending on your skin's needs, you will have to choose one primer or another, but, in reality, all of them will achieve their goal without the need for you to feel burdened. If you don't like to use primer but need to achieve this effect, opt ​​for a moisturizing makeup base and skip this first step. In this case, apply it with a sponge to reduce coverage and obtain a more natural result.
2. Mascara to Make an Easy Makeup look
Although right now you are hallucinating, yes, the mascara will be your next step. Because as we have said that we have just enough time, we cannot entertain ourselves in cleaning the damages that we may cause at that time of the morning. Therefore, we will apply mascara before any other product while the primer settles. Hence, the goal is to save time.
3. Concealer to Makeup look
Since the point of all this is to make it look as natural as possible, please don't overdo it by applying concealer. Sometimes it will be enough with a few light touches in the areas you need and also for more coverage, blend the points with a bushy brush.
4. Cream Blush to Easy Makeup Look
Cream products are having a 'boom' this year (exciting, especially for girls with dry skin) because they make the final result much more natural. A cream blush blends and integrates with the skin much better than a powder blush. therefore pick up the product with the brush, and you will use and apply it as you usually would.
5. Creamy Highlighter
After the blush, we will also apply a cream highlighter. A cream highlighter always makes your cheek look triple-hydrated and almost wet. In addition, the residue is much less visible than a powder. We like to apply it directly with the fingertips on the top of the cheekbone and also the arch of the eyebrow, the nasal septum, the tip of the nose, and, optionally, the cupid's bow.
6. BRONZER – On Cheeks And Eye Shadow
It is the essential step you must follow because it is a beautiful 2×1. In addition to tanning your face, you will seal part of the cream products you have applied before and make your eyes look twice as big. Therefore: We will use bronzer crease between the mobile and fixed eyelids. This way, we will give depth to the look while adding a little color. The key is to use the same bronzer and not a neutral shadow so that the result is more even on the face. as usual. With a blending brush, we will apply the same product along and across the
7. Eyebrow Gel for Easy Makeup Looks
Last but not least, the eyebrows. And in addition, natural and uncomplicated eyebrows are crucial to skipping pencils and opting for eyebrow gel. which has some color. Thus, while you try to keep hairs from moving their place, you will fill in possible unwanted gaps.
8 . Fixing Spray for Easy Makeup Looks
At the end and optionally. Hence,  apply a fixing or luminous spray. So that everything you have used integrates. and the result is even more natural.
9. Pink Lipstick
Skin tone doesn't matter here. From black to brown, to yellow to pale skinned complexions, all skin complexion ladies can carry off pink lipsticks with total hits. This is the perfect lipstick shade for fair skin and every other skin shade and tone you can come by!
Conclusion
Therefore, beauty essentials will be good quality primary products and special brushes to achieve the desired effect. Thus, with these daily natural makeup steps, you will accomplish a timeless look for all kinds of occasions.