MAC Fruity Juicy Collection Review Swatches –  MAC Collections always create a buzz in the beauty world, mainly when you use limited-edition packaging for the set. So far, MAC sets in terms of speciality wrapping have been the MAC Wash and Dry set and the MAC Magic of the Night set, but MAC Fruity Juicy range beats it. The sheen is divine on the skin without being too frosty, and the colours are noticeable in a gorgeous floral print
MAC Fruity Juicy Collection Review Swatches – What is MAC Cosmetics Fruity Juicy Collection?
As the seasons change from more excellent to warmer weather, so should your makeup. In the winter, when night falls earlier, you typically select darker colours, such as blues and rich browns. However, you don't want the heavy texture of those hues weighing you down in the heat. You want to look revitalised and dewy, which the Fruity Juicy makeup line from MAC Cosmetics can provide.
MAC Cosmetics Fruity Juicy allows you to liven up your everyday look by introducing tropical colours to embellish your lips and eyelids. The package is all new and exciting, inspiring you to maintain your skin bright and attractive. Even the packaging of each product is enough to make you want to buy it.
MAC Cosmetics Fruity Juicy Collection Products
You want a wide range of options for your beauty routine when summertime arrives. These products are simple to incorporate into your routine, regardless of whether you're on summer vacation or want a lighter appearance.
1. Lipstick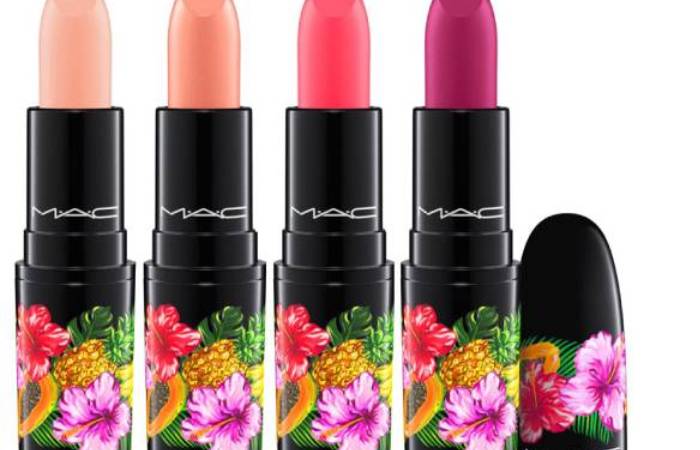 The Fruity Juicy range of lipsticks offers you vibrant hues that can enhance the shine of your skin. A variety of flowers reveals on each tube against a dark background.:
Prep+Prime Fix+ in Coconut –
It has the most fun fruity design on the container. It has a very mild coconut aroma to it, but it's not overly sweet Cremesheen Glass in Summer Succulence is a sheer light milky beige but lends a soft light coloured sheen to the lips
Amplified Creme Lipstick in Love at First Bite –
It is a highly bright hot pink, super pigmented with a slight sheen, and the texture is ultra creamy and silky. Cremesheen Glass in Cha-Cha-Cha is a sheer melon pink, and it's light but wonderful.
We have two lip products from the collection to share with you. The lip shade  Love At First Bite is a beautiful shimmery fuchsia shade with an amplified finish. It is gorgeous tinted lipstick for summer. The lip shade suits many skin tones and will perfectly match the skin tone. Mac also released two nude shades for those who prefer more neutral shades, but the pops of colour are worth checking out this year.
MAC Si, Si, Me! Lipstick –
A vibrant medium-dark lilac with warm pink undertones and a satin finish. It had good colour coverage, although it wasn't wholly opaque; The consistency was soft and creamy but not wet and comfortable to use and wear. It stayed fine for over six hours, mainly remained healthy even after the meal, and the formula didn't feel dry.
Fruity Juicy lets you lighten up your makeup routine during the warmer months when the last thing you want is a thick coat to weigh you down. All colours are radiant and beautiful, giving you exactly the change you need when the new season arrives.
2.CrèmeSheen Glass
CremeSheen Glass offers a lovely assortment of lip glosses to pick after. Some of the hues are a little different, but this type of product is ideal for people who like a slicker texture than lipstick. Cha-Cha-Cha is a creamy pink Shake, Shake, a coral red La Salsa, a purplish pink Shimmer Succulence, and a pearly pink.
3. Eyeshadow
The Mac Fruity Juicy Eyeshadow x 6 Love in The Glades is a six-pan eyeshadow palette with gorgeous metal LE packaging. It has some green and bronze tones, and the quality is good. The eyeshadows mix well and have good pigmentation.
Each eyeshadow palette contains six different colours, allowing you to vary the looks you wear daily. You can use one shade at a time or stack it to make your eyes appear larger.
Fruit A La La, ranging from light pink to dark brown
Love in The Glades offers greys, blues, and black
Oh, My Banana, with pinks and purples.
4. Pearlmatte Face Powder
When swirled, it is a soft peachy powder that works as a highlighter and blush for me (individual shades swatched below). It's a powder with four unique colours that are deliberate, like flowers. They provide a lovely coral-pink blush with a golden gloss when combined.
The colours can also be used independently as blush or a faint highlight. Never powdery, the powder has a velvety, pigmented feel. It provides a subdued pop of colour that is both constructible and adaptable (depending on how much product you will take from each shade).
5. Bronzing Powder
Baiana Bronze powder is a neutral, cool matte brown. I initially worried that it would be too dark or chilly. It's a warm bronze colour with a medium tone and a matte finish. It has a lovely colour payoff and a pleasant feel to it. It's warm but not so hot that it turns your skin red or orange.
Because it is a medium tint, I believe it will look best on light to light/medium and medium complexion tones. It's one of those bronzers that's ideal for adding warmth to your skin in the summer. You won't immediately develop a tan during the summer. This means that you'll need to use one of the gorgeous bronzing powders to fake it till you make it. You can contour with the pressed powder or use it to give the look of a sun-kissed tan on your cheekbones. you can upgrade to the Studio Sculpt choices.
6. Lustre Drops
Somewhat utilising pressed powder, Lustre Drops is a liquid highlighter. Depending on your preference, you can apply it to your skin with a cosmetic sponge or your fingertips.
Bronze Hero
Sun Rush
7. Brushes
To achieve the best coverage for your makeup, start by getting the right brushes to apply with it. You can pick between two meetings depending on the products you need to use. Dense Split Fiber Face Brush 125 provides a fan shape for different shading parts of the face with creams or powders. Large 126 Split Fiber Face Brush gives you the shape of a powder-only palette.
Conclusion of MAC Fruity Juicy Review Swatches
MAC Fruity Juicy Collection – It lets you lighten up your makeup routine during the warmer months when the last thing you want is a thick coat to weigh you down. All colours are radiant and beautiful, giving you exactly the change you need when the new season arrives. If you want to bring in the summer heat with bright, fresh colours, Fruity Juicy from MAC can help.