Burberry runway makeup tutorial – We are trying to find that fresh sun-kissed glow without the potential sunburn that may result from too much sun exposure. Take a look at Burberry's latest beauty tutorial featuring model Charlotte Wiggins and Burberry Make-Up Artistic Consultant Wendy Rowe for recommendations on achieving this runway-inspired look.
Rowe takes us through a step-by-step process using Fresh Glow Luminous Fluid Base in Golden Radiance No02 and Burberry Eye Colour Wet & Dry Silk Shadow to spotlight and contour the eyes.
Burberry Runway Makeup Tutorial Review
Burberry  Runway Makeup has been well-defined as a hybrid of a highlighter and blush. Swirled together, it is a muted light-medium pink with subtle neutral-to-cool undertones, and a semi-matte finish shimmer within the lettering is an overspray. In contrast, the lighter pink and yellowed beige shades seem to travel through (I scraped through several layers to check).
MAC Modest Blush (LE00) is darker, YSL Singuliere  (P00) is analogous MAC Pink Sprinkles (LE00) is darker. Surratt Beauty Guimauve (P00) is shimmery and lighter. Dior Rose (001) (LE00) is analogous to Givenchy It-Girl Purple (P00) and is brighter and darker. MAC Well Dressed (P00) is darker. The MAC Pink Cult (LE00) is cooler-toned. MAC Launch Away (LE00) is warmer Burberry Misty (P00) is analogous.
For the Burberry Spring Summer 22, Fashion Show Look
For the Burberry spring summer 22 runway look, we had a radiant and fresh natural nude look; here are a few simple steps for you on how you can recreate it the
The first step is to apply fresh glow luminous fluid base in new radiance number one. This works wonders as a primer, and it will give you a beautiful glowy base for your foundation
The second step is to apply the ultimate glow foundation, a luxurious serum foundation. It's the perfect blend of skincare and makeup, and it will allow you to achieve a very natural glow whilst keeping your skin plump and hydrated
The next step is to apply cashmere concealer, which will help you further perfect that base.
Next, I will perfect my brows with the effortless eyebrow definer. I use this to define and shape the brow, creating naturally fuller-looking eyebrows to perfect and finish my skin. I'm going to use matte glow powder.
The final step is to add a nude lip. I'm applying it with my fingers, so I get that beautiful hint of colour
Burberry Runway Makeup Tutorial
Burberry Makeup
I liked the LV one I did a few weeks ago, but I wasn't brave or skilled enough to draw on the little Burberry stripes and checks onto my eyelids yet!! I still think a brown cut crinkle under a silver line, black eyeliner. Then red lips still match the brand's aesthetic.
So I think it all knotted together quite nicely in the end!! The process of this look wasn't as fun or spontaneous as usual because, for the first time, I was filming it. I went along for a TikTok, which was super nerve-wracking as I've never filmed a tutorial or anything before!! I'm pleased with this one, and I love any excuse to do a red lip!
Burberry Runway Makeup Tutorial
Products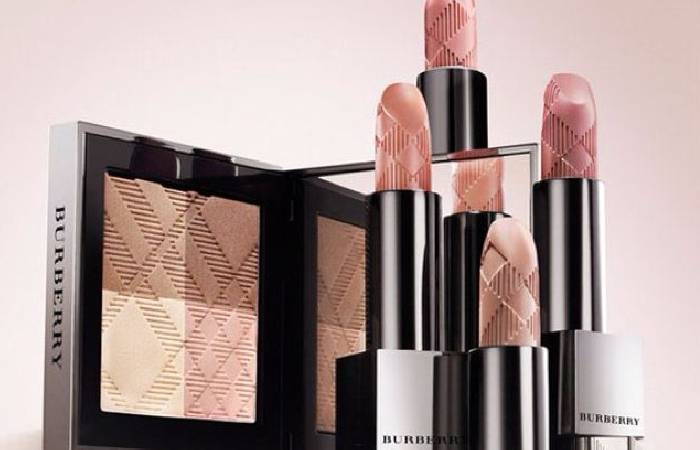 primer: Chanel | foundation: Clinique | concealer: Fenty beauty + il making | browse: urban decay 'petite heat' mini palette | eyeshadow: Laroc '120 natural tones' eyeshadow palette | eyeliner: eyeko | mascara: Clinique | lashes: lanky lashes | lips: Rimmel deep pink liquid lip covered with Laroc red eyeshadow as my sister stole my real red lipstick lmao |
Conclusion
In line with Burberry Beauty's new global branding way and the launch of the new Essentials Glow Palette. Burberry Beauty (under the Coty Group) betrothed Holition in July 2020 to introduce the brand's first increased reality-enabled digital activation to inspire and educate consumers on achieving their perfect glow looks.