Introduction – Holiday Makeup Tutorial
Holiday makeup tutorial covered by the snow-kissed and the sensual. Half the fun is choosing the winter beauty look that best suits your mood and style regarding parties and events. And there's the bold, the bright, and the glittery, perfect for the company party or your beau's family dinner.
Tips – Holiday Makeup Tutorial
Let's start with the bold and dazzling glam look since the holidays are the perfect time to try dark lips, extra shine, or dramatic eyes. Better yet, incorporate them into an unforgettable look.
Let's start with the brows, using Santo Cosmetics Brow Pencil in Bombshell Blonde. Santo Cosmetics doesn't use phthalates, sulfates, or parabens in its products, so if you have skin sensitivities, this is a great brand to try.
After defining your brows, you'll prep your eyelids with your fingers and apply the Balm put primer on them.
Then set your eyes with a very neutral-colored powder shadow, preferably Snobby from the Balm's Nude Tide Eyeshadow Palette. Fun fact: if you don't have an eye shadow primer, you can always prime your lids with concealer.
From the same palette, apply the stubborn shade and start blending and buffing the color on top. Then, use the darker, rosy shade on a packing brush and mix it all over. Once combined, you'll put silly on the outer corners and blend into the crease to darken up the look and add depth to your eyes.
The Glitter! Makeup Tutorial
Wet your eyeshadow brush before applying it to Bella Pierre Pretty Woman, then line our upper and lower lids with some black eyeliner. To finish off the eyes, use the Balm Mad Lash Mascara in Black on the upper and lower lashes, and then pop a pair of Jasmine lashes on from Santo Cosmetics. You can highlight your brow bone and inner corners with a shimmery highlight color, done with Sassy Balm Nude Tide. With that, her eyes made!
Face – Makeup Tutorial
Use Imani vegan-friendly and animal cruelty-free Perfect 10 Primer for the rest of your face. Then apply some concealer to your forehead, under your eyes, on the bridge of your nose, and your chin. After that, dab the liquid balm highlighter in the Mary Dew Manifer onto the upper parts of your cheeks.
Set your face using the Imani Setting Powder in a jumbo, fluffy brush. (And don't worry, this will dull the highlighter a bit, but it's more about establishing a glow foundation for later.) You'll want to apply all liquid products before laying down your powder products.
Last but certainly not least: bold lipstick. With Fiery Red Nail Shade Party + Hallow, this liquid lipstick is paraben-free and stays on beautifully. With the look now complete, you'll want to use a setting spray so that it can stay put, whether you're dancing at a party or toasting the night away.
Choose the Ideal lipstick Makeup Tutorials
Permanent and long-lasting lipsticks are the best options because they are fixed on your lips, do not transfer or run, and give you a durable and intense color. Try our Resist Lipsticks, which are kiss-proof and mask-proof. Its 100% matte finish formula does not transfer, run or crack.
Application Tips
Before applying your sunscreens, vitamin E, and natural emollients. Resist lipstick, moisturize your lips with Kiss My Lips lip balm containing
Leave it for a few minutes and dry the excess balm by gently pressing a napkin on your lips to remove what you have absorbed before applying the color.
When applying lipstick, start center upper lip work corners and contour of your mouth. Then, glide the lipstick across your lower lip.
Take Care of Your lips – Makeup Tutorials
The skin that covers our lips is excellent and delicate. Given the lack of ventilation with face masks, dryness is natural, so you must maintain a daily routine to hydrate them perfectly.
After cleansing your face and lips every morning and every night, apply Kiss My Lips Protective Balm to hydrate your lips.
You can also exfoliate your lips to remove dead cells with a homemade recipe:
Take a cotton ball, spread it with a bit of honey and sugar, and gently massage your lips. Then rinse with warm water. Always moisturize your lips after exfoliating to leave them soft and moisturized.
Makeup Tutorials – It Commandments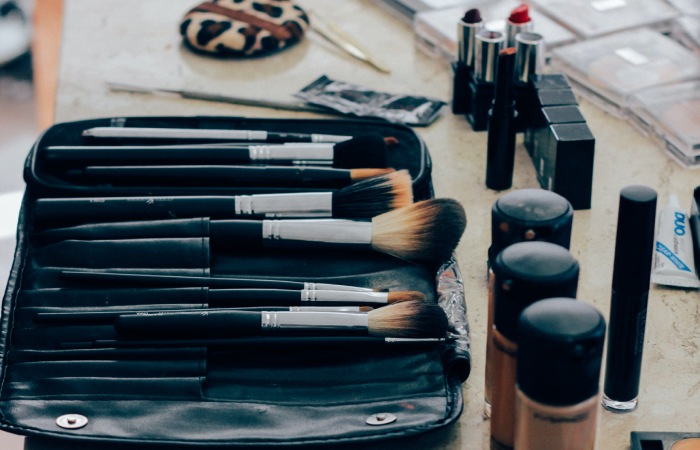 It would be super easy to know what to do and what not to do to put on better makeup. Choosing the right products for our skin and goals is key to achieving long-lasting, fresh, luminous makeup and, best of all, one that makes us feel super pretty!
That's why I thought I'd make you a practical guide to the ten makeup commandments, so here they are:
Always clean and moisturize your skin well so that when you put on the foundation, the skin looks healthy and fresh. It will help ensure that the base does not crack over time, and your skin always looks like it has just been made up, without excess shine or dryness.
My recommendation is the Resist Base from Vogue Cosmetics, which resists heat, humidity, and sweat and does not transfer.
Start highlighting your eyebrows by outlining their natural shape and filling them in with small strokes as if you were drawing tiny hairs to make the finish more realistic.
Know what the tone of the eyebrows is, and you must consider that it always goes with the color of your hair base; Also, if you are blonde, try to go a shade or two darker than your hair, and if you have dark hair, a shade lighter.
When applying the foundation, always do it in layers, concentrating the most product from the outside to the center.
Remember that less is more. It is preferable to build it little by little than to saturate the skin.
To choose your ideal shade of foundation, you should try it on your neck, and it should blend perfectly and match that shade.
For spectacular makeup, you must know your face, highlight the most beautiful parts, and hide the elements you do not like so much.
Always try to bring dimension back to your face. Replace the contour with a bronzing powder. You will achieve a more natural and harmonious look.
If you decide to add depth to your face with the Contour Duo palette, don't forget to define your chin well, which will help you register better in photographs.
Remember that the concealer you use should match your skin tone. Then, you can illuminate it with a one or two shades lighter concealer and blend well with the touches. Curl your lashes to make your eye look more attractive, and always apply lashes on the upper and lower lashes.
Don't forget to color your face with a blush on the apples of your cheeks. If you don't have much time, you can use the blush as shadows and put it on the lips to achieve a harmonious and natural look.
This tip will get you out of trouble on days when you need to be ready in 5 minutes.
EXTRA TIP! Makeup Tutorials
Line the upper water line to create the illusion of more volume in your lashes and a deep look. For this step, I recommend using waterproof eyeliner so your makeup doesn't run. My recommendation? The Resist eyeliner from Vogue Cosmetics.
I hope these commandments help you. Remember that the important thing is that makeup allows us to highlight the most beautiful of us. The objective is to take advantage of the parts we like the most.
Conclusion
Your best option is to travel (drive, fly, train) makeup-free, having just used a hydrating moisturizer and SPF. Then, apply any additional makeup once you've reached your destination, and it will help keep your face fresh and nourished. I hope you enjoyed looking at this article's tutorials and maybe learned more about makeup trends.
Also Read: Makeup Must-Have For Party