NARS x Erdem Flowers Collection
NARS x Erdem Flowers Collection, by now, if you're into the makeup and fashion industry, you've heard about a collaboration between world-class fashion designer Erdem Moralioglu and NARS Cosmetic. If you haven't about to blow away. NARS x Erdem collaboration is versatile and well-made, and beautiful. It's no surprise if you look at some of NARS x Erdem's fashion collections. He has designed for the royal family, making party dress for Kate Middleton, and he's also supposedly going to create Meghan Markle's wedding dress. His main genre seems too classic, elegant, and slightly vintage everyday wear formal wear for everyday girls. Especially key to Erdem's style love for florals, which explains the theme of this NARS x Erdem collaboration, 'Strange Flowers.
Product – NARS x Erdem Flowers
Based on what we see on the Erdem runway, it's no surprise that the entire NARS collaboration is adorned in a beautiful ornate floral motif. Every detail is pristine, from the outside package to the plastic that protects the shadow pot from scratch. It's almost painful to start using this product because you feel like you're ruining a piece of art.
Now that I've got you fully tempted let's get into the product itself!
The collaboration consist:
Two eyeshadow palettes (containing six shades each)
One lip powder palette (including four powders and also one lip priming balm)
Six lipstick
One multi-use highlight stick
Two blush
One pack of spoiling paper
The package is a light blue shade with different flowers on each product except for the lipstick and highlighting stick. The packaging would make me buy all just saying.
NARS x Erdem Lipstick Swatch
They combine five sheer shades and one classic opaque red shade, starting with lipstick. Erdem and NARS knew everyone needed a classic red for their collection. The colors are inspired by flowers and closely mimic the colors on the actual packaging. Although the pinky-nude shade is difficult to see on the arm, on the lip, it would create the perfect moisturizing tint for your lip.
One thing I love about this lipstick is that it's super creamy. Sometimes matte shades aren't for everyday use, especially when you're feeling particularly dry. The moisturizing quality of the lipstick shows that this collection is all about a bold yet subtle and wearable look. Each lipstick retail for $ 28.
Poison Rose Lip Palette Swatch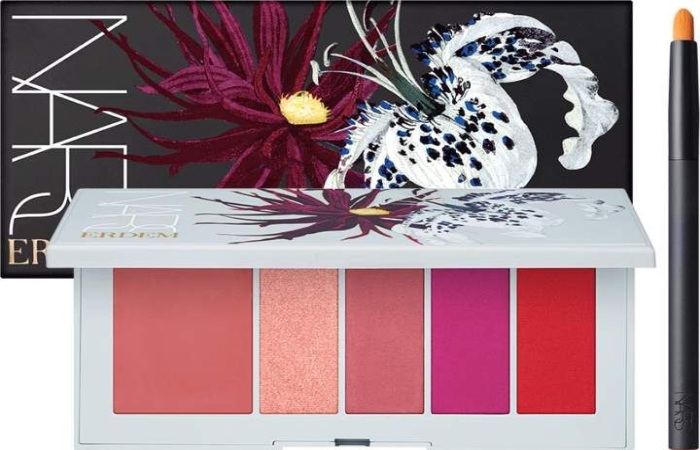 Lip powder is a velvety set of intense pigment colors closely matching the lipstick. But what makes this lip powder different from regular eyeshadow is insane pigmentation, It took one light swipe to become the opacity you see in the swatch snapshot. Perfect for making perfect, velvety matte pout. Not to mention the versatility you have working with a different color. It would be easy to create an Ombre type of lip or the 'Zira' shade to highlight. This lip palette retail for $ 49.
NARS x Erdem 'Night Garden' Eyeshadow Palette
NARS x Erdem 'Fleur Fatale' Eyeshadow Palette
The two eyeshadow palettes are called 'Night Garden' and 'Fleur Fatale'. Very on trend with the season, the shade in the 'Night Garden' palette reminds me of the Anastasia Beverly Hill Subculture Palette, yet it seems more pigment and velvety. (I know I've used this word a lot, but I think perfect way describe the feel powder!)
Description – NARS x Erdem Flowers
These shades are also slightly shimmery, except 'Oleander', the dark brown shade.
Overall, this palette is beautiful, and the color is awe-inspiring.
However, the person who doesn't love taking a risk with makeup and sticks to a more natural or soft look is a little bold.
I still think everyone can rock yellow eye, but I get not want to show up in an office looking like Big Bird but like a beautiful Big Bird.
The 'Fleur Fatale' palette seems more of a daytime glam palette.
These shadows are more classic and a little less bold than the 'Night Garden' palette if you're one stick to a subtle, wearable look.
Like another eyeshadow palette, there are five shimmer shades and one matte shade.
I think this palette has a whole other allure because the shades are very romantic yet different from the palette, like the Modern Renaissance Palette, which is one of my favorites.
This palette would travel extremely well because they're relatively compact. I'm also a fan of the NARS packaging because it feels super sturdy, so you don't have to worry about TSA pushing you.
Velvety and Pigmented
The brushes are the same as all the other powders: they're velvety and pigmented. The only qualm has the lighter blush shade. As you can see, it hardly shows up in the swatch on my model, whose skin tone is relatively weak, especially on her inner arm. It would show up great on darker-tone people. Maybe this blush could also function as a highlighter because it is pretty shimmery. Each blush retails for $30.
The blotting paper retails for $30 for 100 sheets. It is a bit pricey, but the packaging is relatively sturdy (and beautiful). It's also unscented for those of you who hate the powder-scented kind of blotting papers. All in all, it does its job well and all while looking pretty damn cute.
Conclusion
Last but surely not least, we have two blush, the blotting paper, and a multi-use highlighting stick. The highlighting post is one of my favorites in this collection because it is 'multi-use'. The color is phenomenal. I'm a fan of anything iridescent, and this product is about as iridescent as it gets. It would look beautiful as a regular highlight on the cheek and brow bone, as well as in the waterline or inner corner. Because it's super blindable, you could pretty much put it anywhere. It retails for $29.
Also Read: Dior makeup holiday lip base haul