Physicians Formula Makeup – It Products
"Physicians Formula makeup truly works to be free from all things bad and stand for good. We want our consumers to look good, feel good, and know they're doing good by supporting real causes when they use our products," says Chen.
Physicians Formula was born Free from Bad by a doctor for his wife in 1937. Created for sensitive skin, It has over 85 years of innovation. Making the most high-performing yet clean, gentle, healthy, and luxurious hypoallergenic makeup. Always Cruelty-Free and formulated without more than 1,500 harsh chemicals.
Have you ever tried anything from Physicians Formula? Keep scrolling for our round-up of some of the best products and top picks from the brand that we've happily made easily accessible for you to shop.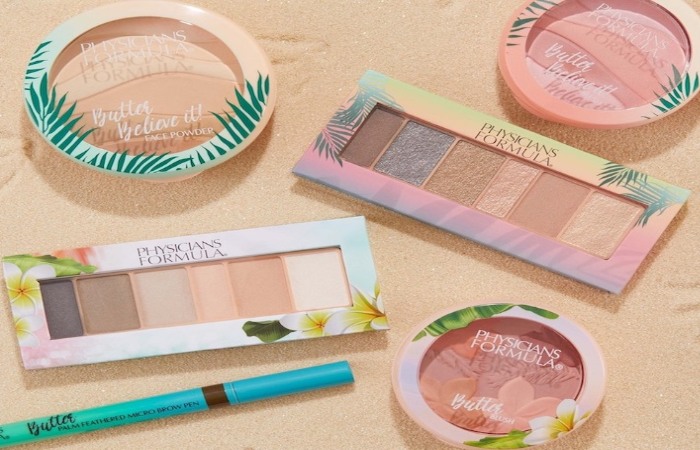 Concepts and Development of Physician Formula Makeup
You've likely browsed the makeup aisles at the drugstore and have come across something from Physicians Formula. There is much to learn about a brand, beginning concepts, and the best investment products. Dr. Frank Crandall, known for his work as a leading allergist, actually developed Physicians Formula in 1937 (yes, you read that right) as a love ode to his wife, Edith, who suffered from lupus and wanted beauty products that wouldn't cause skin flare-ups.
Ahead, we spoke with Physicians Formula Senior VP of Marketing, Alice Chen, to get the full inside scoop on Physicians Formula and rounded up our favorite products for you to shop. Spoiler alert, there's a good reason why the bronzer is so popular.
PHYSICIANS FORMULA
FOUNDED BY: Dr. Frank Crandall in 1937
BASED IN: Los Angeles, California
PRICING: $
·  Most Popular Products
Butter Bronzer, Eye Booster Ultra-Fine Liquid Eyeliner, Organic Wear Natural Origin, Mascara, and the new Diamond Plumper Lip Gloss and All-Star Face Palette,
·  Fun Fact about physician formula
Collectively, employees of Physicians Formula refer to themselves as "Beaumanitarians" and are proud to support EARTHDAY.ORG to reforest the world and continue to aim to drive zero-waste packaging.
·  Other Brands You Will Love
Pure Cosmetics, Jones Road Beauty, Honest Beauty.
Techniques Of Physician Makeup Formula
Crandall was the first to create a physician-curated, hypoallergenic makeup line that is still widely popular today (and we deem that a real success story).
From a wide range of product offerings from eyeshadow to face makeup and skincare, there's something for everyone from Physicians Formula, especially those looking for an alternative to any products containing talc.
"Every one of our products is carefully designed to clean. Effective, and high-performing, yet gentle on the most sensitive skin.
Our team combines unique, natural ingredients with science-backed technologies with top physicians to create the most potent form of 'scientific naturals,' rigorously tested for safety and efficacy," says Chen.
Benefits of Physician Formula Makeup
Aiming to be larger than just a beauty brand, Physicians Formula ensures that everything they do is to better consumers' health and the planet as a whole. Chen states, "We are actively continuing our sustainability efforts to reduce waste. We are proud to support EARTHDAY.ORG to help reforest the world. Physicians Formula continues to aim to drive zero-waste packaging, and we'll always be cruelty-free and strictly No Child Labor to eradicate animal testing and child slavery."
Anyone can benefit from using products from Physician Formula, and the brand tends to attract consumers whose interest is in overall holistic health and wellness.
1.  Murumuru Butter Bronzer Physicians Formula
Physicians Formula:
Murumuru Butter Bronzer $16.00 This bronzer is the #1 selling Physicians Formula product in the U.S. The silky texture and buildable color allow an even, and also sun-kissed glow that looks incredibly natural. It has a light fragrance that makes you feel like you've escaped a tropical paradise. Apply all over the face with a fluffy brush for best results; you can also add warmth by contouring with it!
2.  Organic Wear Fake Out Mascara
Physicians formula:
A buildable mascara that's high-performing, lengthening, and curling. It's infused with Organic Lash Boosting Complex. Natural fibers to help increase and separate each lash for a dramatic eye.
3.  Eye Booster Waterproof Ultra – Fine Liquid Eyeliner
Physicians formula:
Physicians Formula Eye Booster Waterproof Ultra-Fine Liquid Eyeliner $12.00. A waterproof liquid liner with a very tip for easy application, the quick-drying black pigments allow for a beautiful liner look that dries down quickly and lasts all day.
4.  Organic Wear Silk Foundation Elixir
If you're looking for a weightless foundation that feels and looks natural on the skin because this is the product you need to try. This organic foundation elixir has buildable coverage while delivering nourishing ingredients and benefits of Organic Jojoba Oil, Organic Coconut Oil, and Botanical Cactus Flower, to name a few.
5.  Mineral Wear Talc-Free Mineral Airbrushing Pressed Powder SPF30
Give your complexion an airbrushed finish with this powder, therefore the talc-free formula is suitable for anyone with skin sensitivities, and SPF 30 is the perfect touch to protect your skin from harmful UV and UVB rays. Hence, Apply all over the face alone or on top of a liquid foundation for a flawless finish.
6.  Rosé All Day Serum with Physician Formula Makeup
Apply this serum liberally all over your face before makeup; the pearlescent finish will have your skin glowing in seconds. Along with Goji berry and Kakadu Plum the Rosewater gives a high dose of Vitamin C for a smooth and its  radiant complexion.
7.      Murumuru Butter Eyeshadow Palette
Create stunning eyeshadow therefore that looks with this versatile palette of the matte and shimmery formulas. Natural colors allow for daytime looks, while more fun shades give room for creativity for something more fun.
8.  Mineral Wear Diamond Lip Plumper
Give your lips a nourishing treatment with this shimmering lip gloss and also in just one application, your lips appear fuller and more hydrated. Wear alone or with your favorite Hence, lipstick for some of this added shine.
9.       Rose Kiss All Day Velvet Lip Color
Therefore, it is the perfect solution if you're looking for long-lasting lipstick. So, that delivers great color and doesn't cause lips to flake. An easy glide on formula gives it so beautiful pigment. While lips are defined and smooth. Pick up a few different shades so, that you'll love them all.
10.  Murumuru Butter Highlighter Palette
Physicians formula:
Physicians Formula of the Murumuru Butter Highlighter Palette $10.00.
Give yourself the ultimate glow with this highlighter palette composed of because three different shades that deliver a soft-focus. Shimmering highlight to their eyes, cheeks, or other than anywhere else you might want it to be.
Conclusion
Hence, Anyone can benefit from using products from Physician Formula. The brand tends to attract consumers whose interest is in overall holistic health and wellness. Your Step-by-Step Guide to use an Everyday Neutral Makeup.
Also Read: DIY Makeup – Healthy Hacks You Should Try